FIRST NATIONS POTASH
First Nations Potash Company Limited (FNPCL) develops potash resources in the reserve lands of First Nations People in the Saskatchewan region, Canada. With the Muskowekwan Potash Project covering 61,400 acres, the company works with Muskowekwan, Ochapowace and Chacachas to develop a mine for potash production.
IN SPOTLIGHT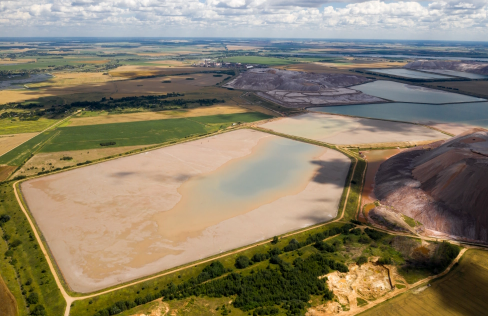 FNPCL has completed a 2D seismic program, seven drill holes and a 3D seismic program on the MFN lands. A portion of the lands located North-East of the MFN reserve has had a 2D seismic program which is covered with a new 3D seismic program to upgrade the resource a few notches higher. The mineral resources have the capacity to support a production rate of 5 Mt of potash every year, the most efficient production model for the MFN property is 3.4 Mt annually for granular and standard products.
HIGHLIGHTS
35.15
MILLION TONNES
OF measured RESOURCES
166.21
MILLION TONNES
OF INDICATED RESOURCES
176.03
MILLION TONNES
OF INFERRED RESOURCES
3.4
MILLION TONNES
a year of extraction rate
OUR PROJECT
POTASH MINING METHOD & RECOVERY
Planned for the recovery of the potash in the Belle Plaine and Patience Lake Members, at 1,200 m below ground surface.
Initiated by drilling and completion of two wells, directionally drilled as S-bends from a single pad to enter the potash vertically about 80 m apart.
Arranged to mine the lowest bed first, with mining progressing upwards.
Planned with steps like well drilling, cavern development, primary mining, and secondary mining.
Designed to combine Multiple Effect Evaporation and a Crystallization Pons to process primary and secondary mining brines from the brinefield.
BUSINESSES

15+ YEARS OF EXEMPLARY GROWTH AND EXCELLENCE

The Enso Group endeavours to enlighten lives by harnessing the power of natural resources, science and technology across sectors that have the potential to impact lives.
CAREERS

ENSO - YOUR SPOTLIGHT TO SHINE
CODE OF CONDUCT

ETHICAL CONDUCT & CODE OF BUSINESS
LIFE AT ENSO

EMBARK ON AN ENRICHING PROFESSIONAL JOURNEY WITH THE ENSO GROUP