THE INSPIRATION
In Zen, ensō is a hand-drawn circle that symbolises absolute enlightenment, strength, elegance, the universe, and mu (the void). The incomplete circle allows for movement and development as well as the perfection of all things.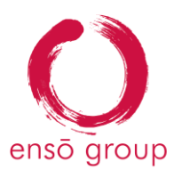 The brand Enso was established in 2005. The logo was a beautiful brushstroke forming an open circle. It reflected our organisation's humane side and stood for the open culture and desire to explore new opportunities.

In 2013, the logo evolved to a more contemporary 3D version. It has transformed to convey our solid foundation and the eagerness of the brand to expand further.
THE PHILOSOPHY
The name and the logo embody the core of our organisation – striving for excellence while expanding our horizon, being human-centred, all-inclusive and social. The bold red colour speaks about our determination to succeed. The open circle denotes that we welcome new ideas, more demanding challenges, and diverse people. The varying shades along the curve allude to the versatility we exhibit as a diversified conglomerate.
BUSINESSES

15+ YEARS OF EXEMPLARY GROWTH AND EXCELLENCE

The Enso Group endeavours to enlighten lives by harnessing the power of natural resources, science and technology across sectors that have the potential to impact lives.
COMPANIES

OUR COMPANIES ARE THE DRIVING
FORCES BEHIND OUR VISION

CAREERS

ENSO - YOUR SPOTLIGHT TO SHINE
CODE OF CONDUCT

ETHICAL CONDUCT & CODE OF BUSINESS
LIFE AT ENSO

EMBARK ON AN ENRICHING PROFESSIONAL JOURNEY WITH THE ENSO GROUP